June 2020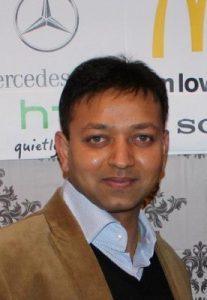 Harshad Gujarathi has been named president of Global Gear of Downers Grove, IL, effective June 1
Gujarathi rejoined Global Gear in March 2020 as vice president of operations, after six years at Reliance Gear in Elmhurst, IL. At Reliance, Gujarathi served in a number of roles, including project manager, plant manager, operations manager and, most recently, managing director (from 2017 until his return to Global Gear in March). Previously, Gujarathi worked for six years as a manufacturing applications engineer at Global Gear and four years as a senior engineer at Jayna Inc. He holds a bachelor's degree in mechanical engineering from Sanjeevani Education Society's College of Engineering, as well as a master's degree in industrial and systems engineering from The Ohio State University.
The move is part of a planned transition. His past experiences at Global Gear and at Reliance Gear support his desire and ability to assume this role and lead the company.
June 2019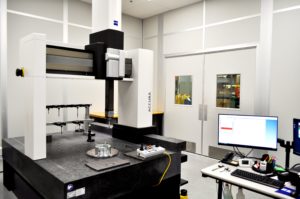 Global Gear & Machining Acquires New Testing Equipment
Expanding our Quality Measurement capabilities, Global Gear recently installed a Zeiss Accura II CMM in a new 20 X 20' environmentally controlled measurement lab.  This equipment incorporates a multi-point active scanning system, measures physical parts comparing to CAD models and is a welcome addition as we continue to expand, offering larger format products.
Features include:
PiWeb traceability reporting
Rotary table for full function gear analysis with Gear-Pro software
VAST Navigator scanning
In-Process Measurements
1st Article Inspection reports
July 2018

Global Gear & Machining featured in Modern Machine Shop
When awarded multiple parts for specific engines and transmissions, Global Gear implements dedicated work cells that produce many parts in smaller lot sizes maintaining a proper delivery ratio of components for customer builds. To achieve this, set-ups need to be reduced and manufacturing processes need to be repeatable demonstrating part to part capability. Implementing state of the art work-holding is key to that success.
August 2017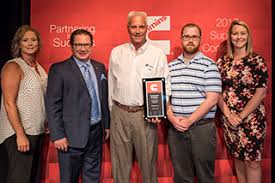 Cummins Presents Global Gear & Machining with Award, Gives Category Partner Status
Category partners are ones who exhibit partnership with Cummins in the areas of:
ZDM – Zero Defect Mentality
Collaborate on innovation and new product introduction
Strive to lower TCO (total cost of ownership)
Excel in delivery
Value chain accountability
Risk mitigation of the supply base
Planning for capacity ahead of demand
May 2017
Global Gear & Machining featured in Today's Motor Vehicles
Global Gear LLC began as a captive supplier to a commercial truck original equipment manufacturer (OEM) but has transitioned into a company that also makes gears and precision machined components for the automotive, transmission, agricultural, and other industries.
June 2016
Global Gear & Machining featured in Modern Machine Shop
Global Gear & Machining was featured in the June 2016 issue of Modern Machine Shop. Case Study – Achieving NVH targets through precision automated machining.
September 2015
Global Gear & Machining featured in Gear Production
Global Gear & Machining was featured in the September 2015 issue of Gear Production. A Map for Market Extension – How one gear manufacturer freed itself from the single-customer model by adopting new technologies and expanding its customer base to protect against economic uncertainties.
October 2010
Global Gear & Machining featured in Production Machining
Global Gear & Machining was featured in the October 2010 issue of Production Machining, which details Global Gear's successful implementation of a fully automated, robot-equipped machining cell utilizing Hydromat technology.